Snake Wizardry
For All Ages
Presenting Award-Winning, Nationally Renowned, Magician, Educator and Herpetologist, with over 35 years of Professional Experience as a Compelling Entertainer and Inspirational Teacher.
Daryl Sprout is a certified herpetologist and master magician with a unique, humorous style. He has performed nationally, on Stages, TV, Conventions, Science Museums, Nature Centers, Scouting Events, Festivals, Schools and Libraries.
The Magician is an Artist who Paints upon the Canvas of Imagination



With his unique brand of humour, charisma and style, Daryl has been called, "The George Carlin of Herpetology". 35 years experience entertaining kids from 3 to 93. From Corporate, Close-up and Stage, to Parties and Receptions, Clubs and Theatres, he is certain to Amaze, Amuse and Inspire.



The World's only Stand-up Comic, Snake-Handling Magician, and the only entertainer for all things reptile. Snake Encounters was born at the Dallas Nature Center in 1992. It was established with the purpose of providing education on the subject of snakes in a humorous and entertaining way - in order to dispel myths and enable audience members overcome this fear, or any other phobia. As Daryl has proven, time and again, nothing is more empowering than staring down, and overcoming, a phobia.



Are you looking for something truly unique and absolutely unforgettable? There is nothing quite like Daryl's Prehistoric Prestidigitation. Custom designed shows for all ages and occasions. Conquer your fears and go hands on with his mind expanding menagerie of lovable reptiles.
"One of the standout headliners at the Weekend of Wonder Festivals, Daryl was truly extraordinary!"
Jay Scott Berry,
Event Producer
"Daryl was absolutely AMAZING! The kids and adults loved his performance! He is hilarious and so knowledgeable about snakes!"
Brandon Woodson,
School Show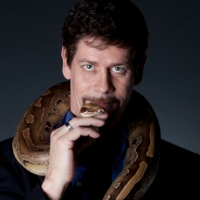 "Snake Encounters with Daryl Sprout was such an awesome experience for my whole family!! My son just turned 6 and LOVES snakes!"
Chelsey Mullins,
Birthday Party
"So fun! Everybody said it was the best birthday party ever. I'm not sure who had more fun the kids or the adults! Great for everyone."